We are HEINEKEN
Digital&Technology team is an integral part of HEINEKEN. We value enjoyment of life, respect for people and our planet, passion for quality in whatever we do. We are looking for IT specialists, who are eager to design our future with us, who are passionate about continuous improvement and doing things for the first time, who can work independently while being part of multicultural team, and who would share our values and have a laugh over the occasional beer at the end of a good working day.
About D&T
Joining us at the D&T HUB, you will become a part of one of the most innovative departments and will have a direct impact on building the HEINEKEN company of the future. As a member of our team, you will be welcomed to the warmest beer family in the world, with strong environmental commitments, caring daily for people and the planet, and with the ambition to ensure seamless digital transactions for more meaningful human interactions.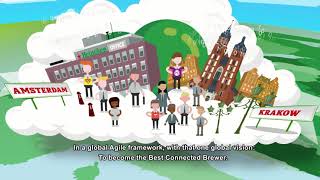 Go Places
Apply and Go Places with HEINEKEN!