How it began
Cognifide was founded in 2005 by Miro Walker and Stu Dean in a garage in Poznan, Poland. They put technology at the heart of the business. In 2018 Cognifide opened its second Polish office in Bydgoszcz.  The office in Katowice has been operating since 2008. Although the name of the company changed several times (once Fortune Cookie, then Possible later Mirum), the Agency's core remained unchanged.  Cognifide and Mirum was acquired by WPP and became part of the Wunderman Thompson network.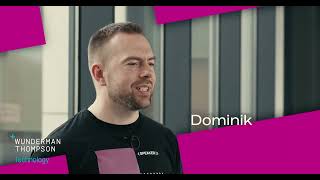 In it together
As a blended, varied team we have deep diverse expertise in digital experience platforms, such as Adobe Experience Manager and Sitecore Experience Platform (XP). Being part of the WPP group we have extended our access to some of the leading specialists in the industry.  We design, build, manage and run the complex technology ecosystems that give organisations the technical capabilities to thrive. And we rock it.
Technology is in our DNA
Technology is changing the world and we are part of that change. Through different R&D activities, our developers have direct impact on the implementation of solutions that solve some marketing challenges. We are knowledge-sharing ambassadors. We organise company-wide events to share what we are passionate about: from technical innovation to hobbies and interests. We share our technical expertise at conferences and through our  Tech Hub. We run and support hackathons and various tech meetups.
People & Culture
Our culture is the shared behaviors we follow. It benefits all of us, which in return benefits the customers we work for. We keep things simple, we trust and respect each other, we share responsibility, and give everyone a chance to challenge and improve things. We aim to build a workplace where people can feel comfortable and release their full potential therefore working with us means that you can choose whatever suits you best - WFH, WFO or a combination of home and office work.
Work-life harmony
We believe that staying healthy and happy is as important as driving innovation and inspiring growth. In fact, work-life harmony is always highly rated in our annual employee satisfaction surveys. We help our people to take good care of themselves and enjoy every day of their working lives. We're always looking for ways to help people develop their skills and knowledge. As  part of our team, you'll attend training sessions both locally and globally.
Sustainability
We take care of each other, and our communities. We have an impact - on our work, relationships and the environment. With ideas and good energy, we change things for the better. We initiate and run campaigns that support education, inclusion and the environment.  We support people in crisis, promote environmentally friendly transportation, and motivate each other to be involved in the sports and hobby activities.
Internships
We create opportunities for young talents to learn through practice and most of our interns continue to grow their careers with us. We are a business patron of the first-ever patronage class with a programmer profile at the Mikołaj Kopernik Secondary Technical School in Poznań, providing learning materials, lectures, apprenticeship, reviews, and scholarship. We also cooperate with universities across the country enabling students to gain new skills in the business environment.
We are part of something bigger
One of the most exciting things about being part of the global Wunderman Thompson network is the fact that we have strategic partnerships with over 50 world-class technology vendors worldwide such as Microsoft, Adobe, Sitecore, Acquia, SAP, Google, Salesforce and many more! Are you interested in working with us? Check our job offers.