Torun office walkthrough
Our largest office in terms of headcount, Torun continuously looks for new talent from students and graduates to experienced professionals, for example, in the fields of R&D, support, and customer service.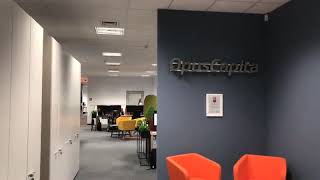 We live our values SHARE CARE DARE
We share what's going on transparently across the organization with modern collab tools. We also constantly share our expertise with our customers. Caring genuinely about each other and about our customers is at the center of what we do. Together we make it, this is true for us internally but also with our customers. We dare to think differently, challenging each other and our customers, as the road less travelled may indeed be the better one. We don't do things simply out of a habit!
OpusCapita e-flow to B2B buying&selling
To be able to automatically check that B2B invoices match what was ordered, you need electronic invoices, fully digital supply chain communication, and system-based procurement, all enabling your AP automation. OpusCapita connects you to all your trade partners - digitally - in an ever-expanding network of companies that buy and sell. With our invoice and order exchange, invoice automation and procurement solutions, you enable yourself an efficient business flow.