Be part of something bigger
Imagine you had the possibility to manage your entire financial life in one personalized feed; join communities of your choice, switch subscriptions on and off, or support charities! Imagine if you simply could track, improve and control your financial health and entire economic life in one single place? That is what we are developing. Together. And we are just getting started.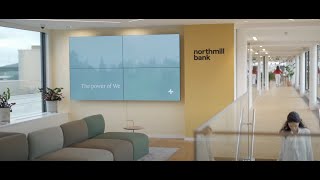 A tech company with a beating heart
Northmill Bank was founded in 2006 in Sweden and has helped more than 200 000 customers to date. We are 150 employees and more than 50 percent work with tech. Because that is what we are, a deeply tech-driven company. Through technology, we want to help people make better financial choices. So for us, everything is tech. It is who we are - our DNA. What we are nerdy about. Yeah, it is safe to say that we love tech and want to use it to change banking for the better.
CRAFT - our core values
We will never compromise with what we stand for. Never. And what we stand for and the foundation of our neobank are: C - Curious R - Relentless A - Active F - Focused T - Thorough This is the base for how we treat each other, our customers, how we do product development, how we choose partnerships, and everything else.
Latest tech and cloud-only
As probably the only cloud-only bank in the Nordics, we do not understand when companies talk about "thinking about moving to the cloud" - we've floating around among the clouds since 2014. Today we are working with some of the leading tech companies in the world such as AWS, Snowflake and Tink. So if you want to talk about Serverless Architecture, AWS Lambda, DynamoDB, CloudWatch (well we can go on for a while but I think you get the point) then you are knocking at the right door.
Have what it takes?
Become a Northmillian by applying here: https://careers.northmill.com/