Recruitment journey
1. CV Review The Recruitment Department will review your professional profile and check its suitability for the position. We will contact selected candidates by phone. 2. Let's talk In the next stage, we will contact you by phone to discuss mutual expectations 3. Complete the recruitment task - after the phone interview, we will ask you to complete a short test. 4. Interview - During the recruitment meeting, you will usually meet the recruiter and the hiring manager. 5. Welcome on board!
Fuel your growth on Fridays
In Data Science Hub at Nestlé we believe in investing in our employees' growth and development. That's why we have implemented a policy where we work 6 hours on Fridays, with 4 of those hours dedicated to learning and development. We're proud to offer access to esteemed learning resources like Towards Data Science and Coursera. This allows our employees to focus on their professional growth, learn new skills, and stay up-to-date with the latest industry trends.
We offer
Work in a dynamic, multi-cultural environment with flexible remote work options or access to a modern office in Warsaw's Mokotów district. We offer internal training programs, support for building ML skills and portfolio. Buddy system to help new employees settle in and feel comfortable in their new role. Our benefits include private medical care, a pension fund, a cafeteria program, a Multisport card, co-financing of meals in the company's canteen, and discounts for Nestle products.
Meet Marcin
Watching the video is a great way to learn more about the Project Team Lead role at Nestlé. The video provides an in-depth look at the responsibilities and requirements of the role, as well as the skills and experience needed to succeed in the position. By watching the video, you can gain a better understanding of what the role entails and whether it aligns with your career goals and aspirations.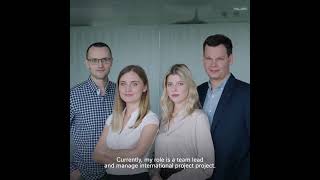 Meet Andrei
Watching the video is an excellent way to gain a deeper understanding of the Data Scientist role at Nestlé. The video provides an overview of the responsibilities and requirements of the position, as well as the skills and experience necessary to excel in the role. By watching the video, you can learn more about the company culture and values, which can help you determine if Nestlé is the right fit for you.