We are professionals!
Luxoft uses technology to enable business transformation, enhance customer experiences, and boost operational efficiency through its strategy, consulting, and engineering services. We combine a unique blend of engineering excellence and deep industry expertise. Technology is our passion! We focus on top engineering talent means that you will be working with the best industry professionals from around the world.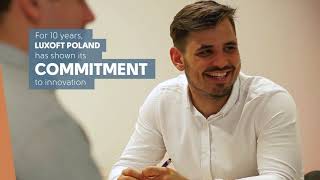 We are Luxofters!
Luxoft is built by "Luxofters". Every member of our team forms part of the backbone of our business, so we make sure to support the continual development of our dedicated workers. We build highly effective teams that are incubators of unparalleled accomplishment. We are a global family with an epic atmosphere – we love what we do!
We are diversified!
We are diversified, and that makes us a great and successful organization! We aspire to provide equality and fairness to all. Our goal is to provide favorable treatment on the grounds of age, disability, marriage and civil partnership, pregnancy and maternity, race, ethnic origin, nationality, religion or belief, gender, and sexual orientation, or any other characteristics that make our people unique. We are opposed to all forms of unlawful and unfair discrimination.
We are growing!
We have a universal ethos that guides us to develop each member of our team. There are simple phrases to describe it: + we grow personally and professionally; + we unite in team spirit; + we lead on a global scale.
We share our knowledge!
We love to share our expertise, as well as participate in technology and industry events! As a Luxofter, you have a lot of opportunities to develop your knowledge and your skills. We support you in the development of your career portfolio.
We are involved!
As Luxofters, we are a group of experts from all over the world. Diversity and Inclusion have for us a great value. We are very proud to be a signatory of the Diversity Card (Karta Różnorodności)! We value being a global organization, as being a part of local communities. Therefore, we engage in dozen of initiatives! We support charity actions, and we contribute to building a responsible business environment. What is more, you can organize your own initiatives with a company's support!
We love fun!
We believe that the atmosphere is our power! Our goal is to achieve great results and have fun altogether. Luxoft creates a space for team integration. As a Luxofter, you have access to a dedicated space where you can meet your colleagues from all around the world. No matter online or offline - we are always one team!
Stand With Ukraine
At Luxoft, we stand united with Ukraine and we mean it! Today, about 30% of our workforce comes from Ukraine, and we want to keep growing this percentage. We are currently looking for talented people working in Java, C++, DevOps, and QA; as System Engineers or Architects; and across many other technical areas. Luxoft's established presence all over the world means that we are able to provide on-going support and relocation services to accommodate you and your family members.