DNV - the company of values
Our Values are beliefs that shape our performance. These ideals are the behaviours expected of all employees in DNV: WE CARE for each other, our customers, our planet, and we take care of ourselves. WE DARE to explore, to experiment, to be different, and to be courageous, curious and creative. WE SHARE our experience and knowledge. We collaborate with each other and our customers, and we continue to grow and develop as a result.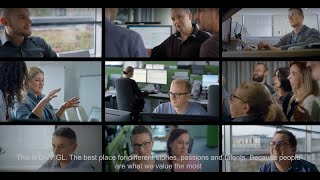 Global Shared Services IT
As part of DNV, with nearly 400 employees worldwide, we have a global key role in system evaluation, development, and integration. We deliver a wide range of IT services and support business units and end-users worldwide. No matter the location, we are one team, working on solutions, we find them together.
Digital Solutions
DNV is a world-leading provider of digital solutions for managing risk and improving asset performance. We are accelerating the pace of transition towards the digitalization of systems and software solutions to give customers the efficiency and flexibility of the cloud, including the power and insights from advanced analytics. We are focused on software development, working on the implementation of our solutions to clients and daily support for users.
Our daily life
At DNV we focus on teamwork. We trust and care for each other, we work together. Because that's what support is all about. For us diversity goes far beyond what's visible. We embrace different skills, perspectives, backgrounds and opinions - because they enrich us and make us stronger. Building an inclusive culture is essential to our success. Only by allowing different voices to be heard and truly listening to each other, can we reach our full potential and benefit from our differences.