#FirstDayInAppUnite #JoinTheAUdventure
Get a sneak peek into our vibrant culture! Starting from Onboarding, during which you will meet your Buddy and Team Leader, who will make sure you feel supported. One of the most memorable moments of the first day is an inspiring meeting with our CEO, who will share with you our mission and values. You will also discover our benefits, meet our Product Team - the masterminds of innovation and collaboration and take part in our Meetups to connect with like-minded colleagues.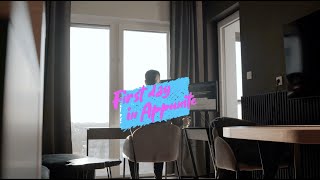 People first!
We care about what we do. When something needs to be done we step in and take action without waiting for someone else to initiate the change. It is about taking the initiative to create positive results.
Develop yourself
Curiosity means to never stop learning. We are excited to get to know and try new things. When a team is curious, they are proactive and not reactive. We are expected to test new things. Even if it leads to making a bad call. After all, a bad decision is better than no decision. We aren't afraid of being wrong. We are curious if we are right. We use our curiosity to build a deep understanding of how things really work. And we believe that it can make a huge difference.
Team players
Helping others is a priority, even when it is not immediately related to the goals that we are trying to achieve. We are collaborative and face problems as a team. We work together for the common good and we support each other. We rely on other team members and we aren't afraid of asking for help. We care about inclusion. We respect others. Their opinions and beliefs. No matter the background, religion, gender or race of the person we work with.
We listen and learn from our customers
We constantly listen to customers (internal and external), and then continuously test, enhance, and personalize the customer experience. Seeing the bigger picture and caring about the final product, even if we need to make a trade-off, always having long term satisfaction in mind. This also includes an employee focus and thinking about what we can do for the AppUniters.